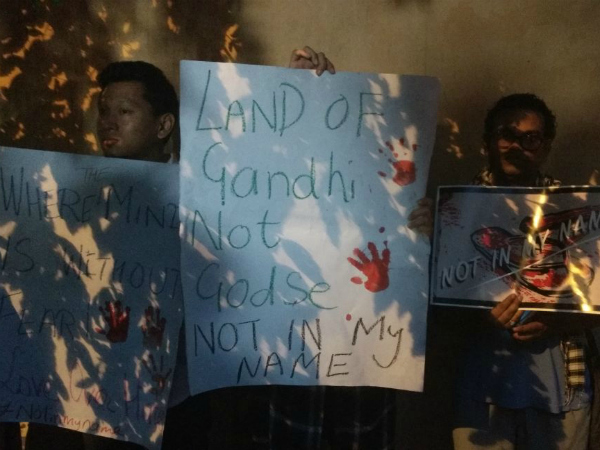 A Muslim friend of mine,  raved and ranted about the killing of 16-year-old Junaid in Delhi.  He forwarded a message which was spewing with hatred and accused all Hindus of being the killers.  This was not an illiterate or impulsive youth.  This is a perfectly sane, educated, middle-aged family man who is also a Doctor.  Where did this hate come from? We have spent years together sitting on the same bench as classmates and never hated each other.
There was no way I could think of comforting him.  But, it showed his deep insecurities living in a country in which he and his ancestors were born.  He was worrying about a future for his children who belong to this country.  Where should he go?  Who will comfort his fears?   When did it become 'them' and 'us'?  Weren't we the same?  
I am against all forms of violence.  Religious tolerance is very important for me.  In my school days,  we never asked for anybody's religion.  Our talks were never on religion.  So,  it surprises me when my son comes home and tells me his friends' names and then in the same breath continues to tell me that one is a Muslim, another a Christian and third is a Jain.  Why should he think it is important to know the religion of his friends?
A lot of these disconnected acts are adding up to become a bigger problem.  I hope this stops before we get there as I do not see a way to bring back trust, once lost.  We Mumbaikars, have proof since we had been through the 1992 riots.  I believe in all religions and do not think one is superior than the other.  Are we not taught,  that God is everywhere?  Are we not taught to be proud of our diversity?  India thrives in its pluralism and freedom of choices.  Let not one choice be better than the other.
Above all religions,  is the religion of humanity.  As a Hindu,  I do not give permission to anybody to impose my choices on someone else.  With 33 crore Gods,  it really is irrelevant to me if someone follows a different set of rituals or calls for prayers through a speaker.  In fact,  near my maternal home,  we could hear the azaans from atleast 3 mosques.  Every time it started, I have watched my mother pray to her Hindu God.  She said azaans are a call to prayer and so she is praying.
I do not give permission to anybody to represent me as a Hindu.  Your Hinduism is different from my Hinduism.  A Hindu in the north is different from a Hindu in the south.  Even Hindus among the different states follow different rituals,  even within states.  In fact,  move a 100 km and a new set of rituals will appear.  Then who gave anybody the permission to kill someone in the name of religion.   My religion does not give you permission.  It is definitely not me.  #NotInMyName will you claim another act of violence or lawlessness.  The fringe is not the norm and it can never be normal.
I believe my Muslim friend will understand that 0.0001% of people who are involved in these crimes do not speak for the majority of Hindus.  I stand with you, my friend.  A 16 year old is a child for me.  He is younger than my own son.  As a mother,  my heart goes out to the family of Junaid.  It is a fate I would not wish for even my worst enemies.
---
---